WordPress FAQ Plugin
Spider FAQ
$560

$100

/6 month for

ALL 17

pluginsBuy Now
If you already have an account on web-dorado.com, please log in before making a purchase. You can also login using "Login with Facebook" option.
If you do not login before making a purchase, we will automatically generate a user account for you and send the username/password combination to the email address used for the payment.
The Spider WordPress FAQ plugin is for creating an FAQ (Frequently Asked Questions) section for your website. Spider FAQ allows you to provide the users with a well-designed and informative FAQ section, which can facilitate you in managing various user inquiries by significantly decreasing their amount.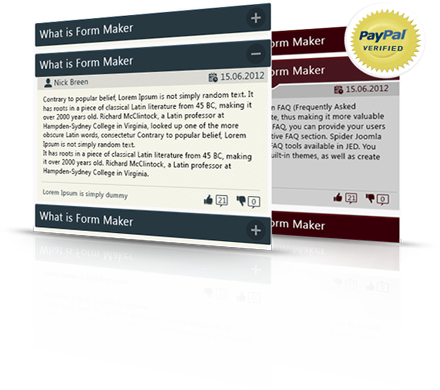 The Spider FAQ plugin is highly customizable and is one of the best FAQ tools that can be found in WordPress directory.FAQs usually contain questions/answers on various topics and it is necessary to somehow organize them for easier navigation. For this purpose Spider FAQ allows creating different categories to be able to organize the questions accordingly. It is also possible to include standard categories (e.g. an existing post category) into the set of FAQ categories.The commercial package of the product includes built-in themes, as well as possibility of creating new themes from scratch.
Features of Spider WordPress FAQ:
22 built-in FAQ themes which can be modified
Possibility of creating a new theme from scratch
The order and organization of the FAQ section is customizable
The FAQscan be provided with images
Existing categories can be used for FAQs
The FAQ section is searchable
Possibility of adding date and username
Like, Unlike and Hits buttons
Full image and HTML support for each FAQ
WYSIWYG editor for FAQs
Button forexpanding/collapsing all the questions
SEO-friendly plugin
A wide range of customizable parameters for each feature of the FAQ section (category parameters, question parameters, answer parameters, searchbox parameters, etc.)