WordPress Facebook plugin
Spider Facebook
Free - FB Login, Register buttons and LinkedIn, Twitter, Google Plus social widgets are disabled in free
Support / Updates Period
We provide Support for
One-time Price
Personal
6 Months
1 Domain
$15
Buy Now
Business
1 Year
3 Domains
$25
Buy Now
Developer
1 Year
Unlimited Domains
$35
Buy Now
$470

$100

/6 month for

ALL 24

plugins Buy Now
Spider Facebook is a WordPress integration tool for Facebook. It includes all the available Facebook social plugins and widgets to be added to your website. As a result, Spider Facebook plugin can help you to fully integrate your website with Facebook. Eventually, your website will become more social and the users will be provided with a personalized user experience.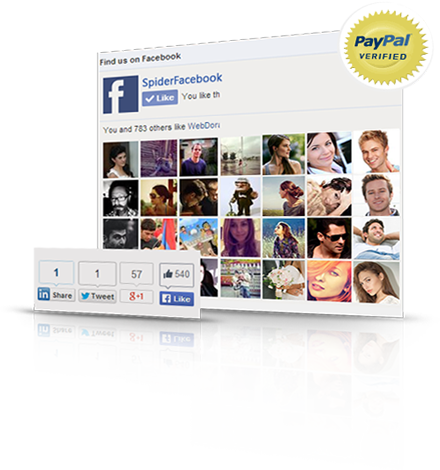 After configuring your website via Spider Facebook, your users will be able to like pages on the website, thus referring to them on their walls, as well as share certain pages with their friends using the Send plugin. The users can also learn which of their Facebook friends have liked the website, as well as receive personal recommendations, and follow the overall user activity. Moreover, you can provide the users with a possibility to comment on any piece of content on your website. With the help of Spider Facebook's registration plugin you can simplify the user registration process, allowing them to quickly and easily register on your website with their Facebook credentials. In addition, the Open Graph integration of Spider Facebook allows you to customize the appearance of the items that are posted on the user's wall by configuring the title, image, type, and other Meta tags.
The back-end of Spider Facebook includes a big number of parameters that are subject to customization (width, height, border options, color scheme, font, and so on) for changing the appearance and functionality of the Facebook social plugins that are included in the Spider Facebook plugin. Any of the social plugins can be applied to specific posts and pages. Alternatively, you can include it in all posts and pages at once.
Spider Facebook has a well-organized and user-friendly back-end interface where each of the plugin parameters is provided with a detailed description.
Features of Spider Facebook plugin:
LinkedIn, Twitter, Google, and Facebook social widgets
Facebook Like Button
Facebook Send Button
Facebook Follow plugin that allows Facebook users to subscribe to other Facebook members from your website.
Facebook Comments box
Facebook Recommendations Box
Facebook Register
Facebook Like Box that allows liking your Facebook Page, as well as viewing its stream from your website.
Facebook Login Button which also contains the Facebook profile pictures of the user's Facebook friends who have signed up for your website.
Facebook Facepile that shows the Facebook profile pictures of the Facebook users who have liked your Facebook page or have signed up for your site.
Facebook Request Dialog for sending a Facebook Request from one Facebook user to one or more Facebook users.