Joomla Random article module
Spider Random Article
$370

$100

/year for

ALL 17

extensionsBuy Now
If you already have an account on web-dorado.com, please log in before making a purchase. You can also login using "Login with Facebook" option.
If you do not login before making a purchase, we will automatically generate a user account for you and send the username/password combination to the email address used for the payment.
Joomla Random Article is a smart solution for your website. It is a useful tool for displaying(in a module) articles from a selected category in random order. Joomla Random Article consists of a component and a module. You can at once display as many articles as you want. You need to specify the category, visual effects,as well as the delay time. You need toadd the articles and categories to the component to show them in a module.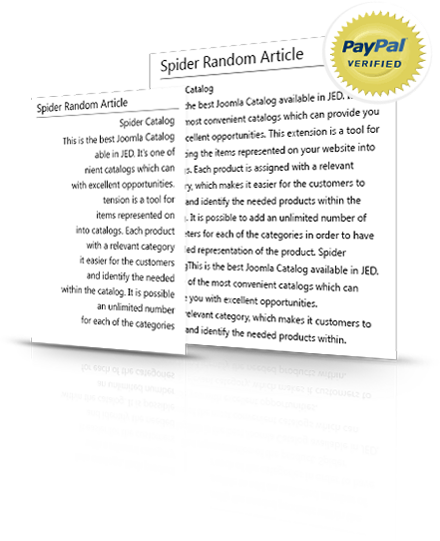 Main features:
Joomla 1.5, Joomla 1.7, Joomla 2.5, and Joomla 3.x Native Extension.
Options for customizing the number of displayed articles, auto update and updating time.
Important : Version 1.5.1 is a "Security Release" and those who use Random Article version under 1.5.1 should upgrade immediately to the latest version!