Styling Options
Will created the topic: Styling Options
Hey I just picked up the commercial version of Spider Calendar and was wondering if there are any options for more advanced styling?

It looks like theme colors become hard coded in to the actual table cells. Is there any way to disable this so I can just style the calendar using css? This could also help to clean up the html as it currently creates an enormous amount of code. I haven't seen any options for removing the month and year selection options from the block calendar either. This isn't as much of an issue but it'd be a nice to have.

Also the speech bubble style descriptions that appear when hovering over an event date, is there a way to style this? This is a really great feature but again more control would be great, even if I need to do it via my own style sheets.

I really like the module and believe it has a ton of potential but I'd love to have much more control over how it looks.

I've attached an image of my calendar design to give you an idea of what I'm aiming for. With full css control this should be quite easy to achieve.

I'm not sure if it's possible to create anything like the event highlights listed under the calendar, but it's definitely something I'd be interested in!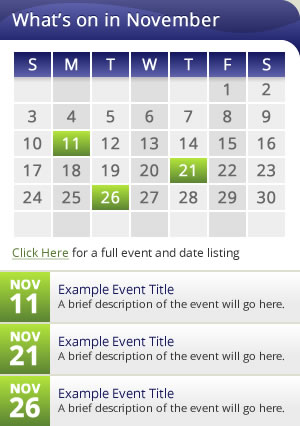 Thanks in advance for any help!
#9185
Please Log in or Create an account to join the conversation.
---
9 years 8 months ago
Support replied the topic: Styling Options
Dear customer,

Unfortunately it is not possible. You can modify it only with options.
#9211
Please Log in or Create an account to join the conversation.
---
9 years 8 months ago
Time to create page: 0.342 seconds