WordPress form builder plugin
Form Maker
Support / Usage Time
Number of Sites
One-time Price
Free

Limited up to 7 fields to add
Only Bug Fixes / Unlimited
Unlimited
Free
Download
Personal
$30
6 Months / Unlimited
Unlimited Usage on 1 Site
$30
Business
$45
1 Year / Unlimited
Unlimited Usage on 3 Sites
$45
Developer
$60
2 Year / Unlimited
Unlimited
$60
If you already have an account on web-dorado.com, please log in before making a purchase. You can also login using "Login with Facebook" option.
If you do not login before making a purchase, we will automatically generate a user account for you and send the username/password combination to the email address used for the payment.
This plugin is a modern and advanced tool for creating responsive WordPress Forms easily and in a timely manner. The backend interface is intuitive and user friendly which allows users far from scripting and programming to create WordPress Forms.
This is the best WordPress Form builder plugin in WordPress Plugin Directory. It allows you to set such parameters as colors and fonts. The size of each element can also be set.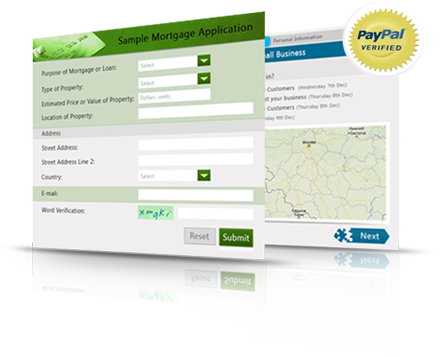 Form Maker Extensions

Form Maker Export/Import This WordPress form plugin handles small WordPress Forms to complex applications. That is why it's ideally suited for beginners and also meets the needs of designers and experts. This WordPress contact form plugin can be used for creating contact, mailing list, survey, application, event registration and party invitation forms.
All modern browsers are supported.
Features:
100% Responsive
Twelve main elements for creating a new form

Custom HTML
Text Input
Time and Date
Select
Checkbox
Radio
File upload
Captcha
Page break
Section break
Map
Button

Full PayPal integration with different checkout modes (Test Mode and Production) and five field types (Amount, Select, Checkbox, Radio, and Shipping).
Custom HTML between form fields
Form Layout change possibilities
Multi-page forms
Ability to separate the WordPress form into sections with different number of columns
Custom CSS and Java script in your form
Includes additional attributes, where you can customize the specific properties for the fields of the form using Java Script.
Ability to receive the filled forms on defined emails, the submitted information also could be sent to the submitter (parameter)
Ability to create menu items and connect with the form
Ability to insert a form into a WordPress page and post
Ability to use a form as a module
WordPress Form Maker integrated with the standard WordPress editor
Various parameter for every element of the form
Data validation during the submitting the form
Submissions statistics
9 sample form templates
Ability to restrict preferred file extensions in file upload
Form Maker is integrated with Google Maps API
Field Instructions for the User
Required Fields in forms
Hidden Fields in forms
A form Submit Button Customization
Alert messages of a form can be easily translated and changed
Ability of adding both simple Survey Tools (Star rating, Scale Rating, Spinner, Slider, and Range), and complex ones, such as Grading and Matrix.
You can add Google map to your forms. In a few seconds the desired address can also be added using the address searching interface, or by filling in geographical coordinates (longitude and latitude). You can also drag the marker on the map using only the mouse.