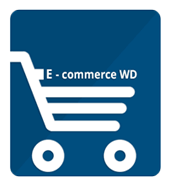 WordPress e-commerce WD
Stap voor stap handleiding
Publishing E-commerce WD shortcode aan pagina's / berichten
In redacteur van een pagina / post te vinden Ecommerce WD icoon (in de vorm van een winkelwagentje), klik erop. Stel de opties en druk op Plaats knop. Shortcode maakt gebruik van drie tabbladen voor het creëren van product lijst, categorieën of fabrikanten pagina's.

Het creëren van categorie pagina: Filter de categorie / categorieën om weer te geven, te bepalen de volgorde (oplopend, aflopend) en kiezen of u de categorie informatie naast de productcategorie weer te geven.

Het creëren van de fabrikant pagina: Definieer het bestellen van de fabrikant en de lijst kiezen of u informatie van de fabrikant, naast de notering te geven.

Het creëren van producten pagina: Hier moet u de regeling voor de product-display te kiezen:

Miniaturen. Geeft product identiek miniaturen met een korte beschrijving.
Metselwerk. Geeft product miniaturen gebaseerd op verhoudingen van de afbeelding toegevoegd en de inhoud ervan lengte.
Lijst. Geeft producten een na de ander als een lijst met een korte beschrijving.
Blog Style. Geeft producten een na de ander met zijn volledige beschrijving lijkt op berichten blog.
Schaak. Displays vier producten, wanneer de inhoud tot de producten naast elkaar zijn inverse.
Stel vervolgens de filters voor het product-display te kiezen categorie, fabrikant, maximum- en minimumprijzen, het toevoegen van de datum, waardering en labels. Als laatste stap definieert het bestelproces.