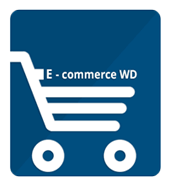 WordPress e-commerce WD
Stap voor stap handleiding
Tax, korting en verzendkosten
Hier kunt u kiezen of u van kortingen en belastingen in de uiteindelijke prijs van het product of niet, zoals je hebt voorheffing van 10% en 30% korting voor 30 USD punt. Wanneer beide opties zijn ingeschakeld zul je 23.1 USD te zien.
U kunt ook de belasting in de prijs weer te geven tijdens het afrekenen, in boodschappenwagentje of overslaan naar laatste stap.
Omdat de belasting komt niet als een percentage dat u kunt kiezen om het per post (lijn) of subtotaal te ronden. Berekent de belasting kan worden gebaseerd op de klant verzending / factuuradres of de winkel locatie.
Prijs suffix zal toestaan ​​toe te voegen prijs beschrijving, bijvoorbeeld Price_including_tax of Taxed_price_excluding_shipment
Wanneer u meerdere belastingen op het artikel hebt toegepast, kunt u deze scheiden met behulp van een gespecificeerde optie of een algemeen subtotaal hebben, bijv. 100 USD-artikelen zijn te wijten aan 5% en 3% belastingen. Die belastbare toevoegingen kunnen worden gespecificeerd als Belasting: 5 USD en Belasting: 3 USD voor gespecificeerde opstelling of Belasting: 8 USD als subtotaal.
Er zijn een aantal parameters voor de scheepvaart. U kunt verbergen / display scheepvaart methoden voor items voordat verzendadres. Dit adres kan worden genomen als ofwel facturering of afleveradres, of u kunt dwingen om factuuradres (waardoor uw gebruiker slechts één adres ingevuld hebben).
Hier kunt u ook de scheepvaart Berekening per groep (in het geval van identieke verzendmethoden de bundel als een eenheid zal worden beschouwd, dat in geval van verschillende methoden voor de opgenomen items van de scheepvaart zal afzonderlijk worden berekend voor elk product) of per eenheid ( elke unit heeft zijn eigen verzendkosten hebben).