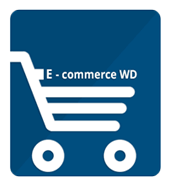 WordPress e-commerce WD
Stap voor stap handleiding
Uitchecken
Hier kunt u de kassa in te schakelen, laat gasten de kassa (voor niet-geregistreerde gebruikers), omleiden naar kar na het toevoegen van een item en / uit te schakelen betaling gateways en configureren van de opties met Betalingssystemen knop voor de hele lijst of klik op een betaling gateways voor een enkele.

Zonder online betaling. Met deze optie kan check out van het product en daarna geld te ontvangen.

PayPal Standard. In het geval van PayPal standaard bent u verplicht om alleen in te voeren de PayPal-adres waarop de betaling ontvangt en kies de kassa mode- sandbox (voor het testen) of productie (voor daadwerkelijke betaling).

PayPal Express. Voor PayPal Express moet u naar de kassa mode- sandbox (voor het testen) of productie (voor de daadwerkelijke betaling) te kiezen. Dan moet je API handtekening te maken:
Meld u aan om uw PayPal (www.paypal.com) account. Zorg ervoor dat de rekening is business één. Hit het profiel icoon rechterbovenhoek, kiezen Profiel en instellingen van Business Profile menu.
Op het menu rechts hit Mijn verkooptools en on line verkopen klik op bijwerken hyperlink voor API-toegang.
Ga naar Optie 2 en Vraag API Geloofsbrieven op de API-toegang.
Vraag API handtekening en klikt u op Akkoord en indienen om de handtekening API genereren.
Je moet in staat zijn om een ​​vergelijkbaar resultaat te krijgen:




Kopieer de gegenereerde gebruikersnaam, wachtwoord en handtekening en vul deze in de bijbehorende invoervelden.