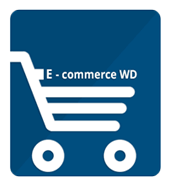 WordPress e-commerce WD
Stap voor stap handleiding
Het toevoegen van Tax Classes
Om fiscale klassen voor gegroepeerde of enkele items te maken naar E-commerce> Tax Classes . Vul in de titel, naaktslak, beschrijving en voeg belastingtarieven.
De belastingdruk zou kunnen variëren op basis van het adres. Voor elk land, postcode of netnummer u kunt afzonderlijke belasting te drukken op Insert Row hebben.
Hier kunt u het land tarief vast te stellen, de naam van de belasting en stel de prioriteit.
Prioriteit. Als u alleen bepaalde landen, kunt u afzonderlijke rijen toe te voegen voor mensen en hebben het ingesteld op All Country rust. In dit geval is het belangrijk om dezelfde prioriteit te hebben om slechts één van hen toegepast:
Bv. Canada 3%, alle landen 5%, zal helpen om slechts 3% toe te passen als Canada een hogere rangorde heeft bij het bestellen. Als die twee verschillende prioriteiten hebben, zijn beide belastingen van toepassing ongeacht de rangorde.
Naast het land zijn er een paar andere variabelen kunnen worden ingesteld voor belasting. Om de volledige lijst te zien, moet u eerst de belasting te redden drukken Voeg een nieuwe fiscale knop en vervolgens uit de lijst met pers Uitgeven knop (beschikbaar onder de titel bij zweven).
Hier ziet u nog een paar rijen: Staat, ZIP / Postcode, Plaats, Verbinding en Verzendkosten.
In staat, zip / postcode en plaats rijen moet u handmatig de lijst met codes / namen toe te voegen en ze te scheiden met een puntkomma aan verschillende belastingtarieven toe te passen op basis van ingevulde gegevens. Bovendien kunt u afzonderlijke Shipping tarief voor de verstrekte gegevens.
De belastingen gebruik van diverse attributen om te bepalen welke belasting moet worden toegepast op het product en in welke volgorde.
Bestellen. Als u de fiscale prioriteit hebt ingesteld, dan zal slechts één van de prioritaire belasting hetzelfde worden toegepast op het product. En dat is de fiscale klasse die hogere ranking heeft.
Bijvoorbeeld als u de aankoop van punt voor Australië
Australië met prioriteit 1
Alle landen met prioriteit 1
Opzetten alleen Australië-relevante belastingen hebben betrekking op het product.
Australië met Prioriteit 1
Alle landen met prioriteit 2
Opgezet zal zowel Australië als All Countries belasting toegepast op het product.
Compound Tax. Dit geldt in het geval wanneer u meer dan één belasting toegepast op het product. Indien aangevinkt zal het de tweede en de daaruit voortvloeiende belastingen reeds belaste prijs van het product toe te passen. Indien niet aangevinkt, zal de belasting op te passen niet, maar om de oorspronkelijke prijs van het product vóór belastingen.
Bijvoorbeeld Product is geprijsd 100 USD vóór belastingen.
We hebben
Australië met Prioriteit 1 en Belastingpercentage 10% Alle landen met prioriteit 2 en Belastingpercentage 30% -bestand
In dit geval zal de eerste Australische belasting worden toegepast en vervolgens All Country. De berekening gaat om de volgende: 100 + 100 * 10% = 110 USD, dan is 110 + 110 * 30% = 143 USD, die de uiteindelijke prijs zal zijn. Bij niet-compound voor beide gevallen zullen we eindigen met 140USD.