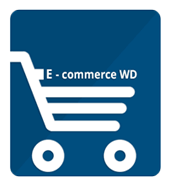 WordPress e-commerce WD
Stap voor stap handleiding
Toevoegen van parameters
Ga naar Producten> Parameters . Hier vul naam, naaktslak en beschrijving van de parameter. Vervolgens kiest u het type ervan: Enkele waarde. Hiermee kan één enkele optie worden toegevoegd, die niet kan worden aangepast of gewijzigd, bijvoorbeeld Kleur: Wit.
Invoer. Hiermee kunnen gebruikers de parameteroptie typen die ze prefereren.
Selecteer. Hiermee kan de gebruiker de gewenste optie uit de weergegeven opties selecteren.
Radio. Hiermee kan de gebruiker de gewenste enkele optie aanvinken.
Checkbox. Hiermee kan de gebruiker meerdere opties voor de parameter product te controleren.

Kies of u deze als vereiste parameter wilt hebben en druk op parameter toevoegen knop.