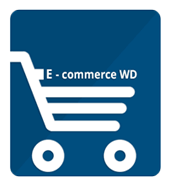 WordPress e-commerce WD
Stap voor stap handleiding
Het toevoegen van het product
Ga naar Producten> Nieuwe toevoegen . Product is een aangepaste pagina, waar u de naam en beschrijving van het product als post titel en inhoud kunt toevoegen. U kunt toevoegen korte omschrijving van het product in Korte Omschrijving content gebied (zichtbaar met een aantal van de views) en ga verder met productgegevens doos:
Gegevens tab is ontworpen voor specificaties van het product. Hier kunt u het product model, prijs toe te voegen, kiest u korting, belastingen, ingesteld definitief en marktprijzen, definiëren hoeveelheid op voorraad (voor onbeperkt optie vink het vakje) en tenslotte in waarden invullen voor SKU (Stock Keeping Unit), UPC (Universal Product Code ), EAN (European Article Number), JAN (Japanse artikel Number), ISBN (International Standard Book Number) en MPN (Manufacturer Part Number) indien van toepassing.
In Links tabblad kunt u label toe te voegen (bijvoorbeeld overlays voor nieuwe, Sales en enz.) om het product en de licentie pagina's (voor wat betreft de aankoop van het product en gebruik).
Voor parameters toe te voegen of erven ze uit de categorie parameters gebruik Parameters tab.
In Verzending tabblad kunt u de scheepvaart mogelijk te maken voor het product en in de scheepvaart details, zoals het gewicht en de afmetingen van het product in te vullen. Eenheden voor beide kan worden gewijzigd in het menu Opties.
In Media tabblad kunt u verschillende foto's toe te voegen voor het product, maar ook voorzien van een video.
meta titel, meta description en meta keywords: naar de productpagina SEO-vriendelijk kunt u een eigen metadata toe te voegen in Meta tags te maken.

Aan de rechterkant kunt u kiezen Product Category, labels toevoegen, vul of kies parameterwaarden en selecteert fabrikant.