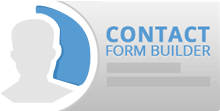 Contact Form Builder
Stap voor stap handleiding
Stap 5: Het publiceren van de gemaakte contactformulier.
Het plaatsen van het contact formulier in een pagina of een bericht:
5.1
Open de pagina of post waar je wilt naar het contactformulier te posten.
5.2
Controleer de knoppen in je editor. Zoeken en druk op de knop met de titel als Insert
Contactformulier
.

5.3
Selecteer een formulier in de lijst en druk op
Plaats
knop.

5.4
Sla de pagina of de post.
Als u niet de typische TinyMCE gebruiken, kunt u de shortcode van het product handmatig toe te voegen: Voeg de shortcode [Contact_Form_Builder id = "N"] (Waarbij N het id van het contact formulier, bijvoorbeeld als id = 2, moet de shortcode te zijn [Contact_Form_Builder id = "N"]. Net als bij de eerste instructies die u moet de gemaakte shortcode toe te voegen in de pagina's en berichten, waar u wilt het formulier te verschijnen. kan de shortcode lijst van de sectie Manager worden gekopieerd Vormen Builder> Manager.