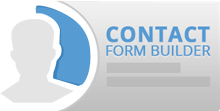 Contact Form Builder
Stap voor stap handleiding
Stap 2: Bewerken Contact Form Builder.
2.1 Ga naar Contactformulier Builder> Manager.



2.2 Selecteer "Contactformulier" wilt u de relevante wijzigingen aan te brengen. Klik op de titel om de aangegeven vorm te openen.
2.3 navigatieknoppen. 4 navigatie-pijlen worden weergegeven naast elk veld. U kunt deze pijlen gebruiken om de velden omhoog, omlaag, naar links of naar rechts te bewegen.  
Let op: voor grotere gebieden aan het idee van de vorm scherm te krijgen in de front-end moet u op Instorting menu op de laagste linkerhoek.      
2.4 Bewerken knop. Met behulp bewerk knop, wordt u in staat om specifieke veranderingen in het gebied, met inbegrip van titels, labels, afmetingen en etc.
van toepassing zijn 2.5 Checkbox. . Met behulp van de selectievakjes naast de velden die u kunt inschakelen of de verstrekte veld uitschakelen.