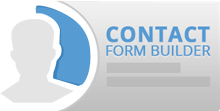 Contact Form Builder
Stap voor stap handleiding
Stap 3: Contactformulier Opties van het Contact Form Builder configureren.
3.1 Algemene opties van WordPress Contact Form Builder



3.1.1 gepubliceerd. Kies of u de gemaakte vorm te publiceren of laat het ongepubliceerde voor de verdere publicatie.



3.1.2 Opslaan van gegevens (database). Kies of u de gegevens op te slaan in de database (inzendingen tabel) of niet. BELANGRIJK: Zorg ervoor dat u goed voorbereid de e-mailopties. Het uitschakelen van deze optie is alleen van toepassing als u liever inzendingen ontvangen alleen via e-mail.      
3.1.3 Thema. Het thema van het contact formulier kan worden gewijzigd in het thema passen. kan worden toegepast op elke nieuwe vorm. Het formulier wordt geleverd met 37 standaard thema's. De thema's kunnen worden bewerkt; er een mogelijkheid van nieuwe thema toevoegen (Naar Contactformulier Builder> Thema's> Voeg nieuwe .)
3.1.4 Voorbeeld . Deze optie geeft de mogelijkheid om het formulier uiterlijk binnen het gekozen thema te bekijken.
3.1.5 Bewerk CSS . Deze opties kunt u wijzigingen in het thema CSS te maken. Na het indrukken van de knop Opslaan zul je in staat om een ​​voorbeeld van de wijzigingen die u hebt gemaakt.
3.1.6 Verplichte velden te markeren. Hier kunt u het symbool van de indicator gebruikt voor de verplichte velden veranderen. Standaard is * in rode kleur.