WordPress flash kalender plugin
Spider Flash Calendar
Spider Flash Kalender is een van de beste WordPress evenementenkalenders in WordPress Plugins Directory. Dit product is een zeer configureerbaar WordPress flash kalender plugin waarmee u meerdere georganiseerde evenementen kunt hebben. De Spider Flash kalender biedt vele voordelen, zoals het opzetten van een evenement, mediabestanden: video's en foto bestanden. WordPress Flash Kalender is geïntegreerd met de WordPress administratie.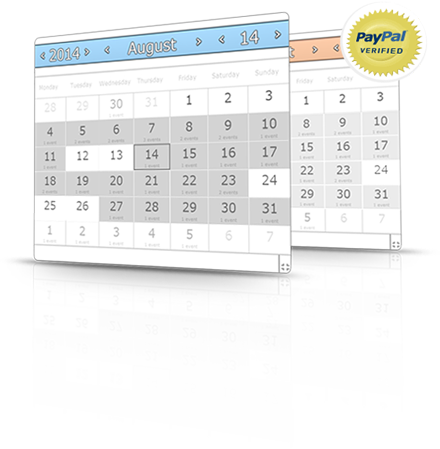 Kenmerken van Spider Flash kalender:
Het belangrijkste kenmerk van de plug-in is de mogelijkheid om onbeperkt aantal evenementen toe te voegen met mediabestanden (video en foto bestanden), de inhoud beschrijving en datum.
Mogelijkheid om de prioriteit van de gebeurtenissen (laag, gemiddeld, hoog) aan te passen zodat ze met verschillende kleuren gemarkeerd worden
Mogelijkheid om een van de 10 standaard thema's te selecteren
Mogelijkheid om een HTML-inhoud toe te voegen aan de gebeurtenissen.
Mogelijkheid om de aantal gebeurtenissen op een datum te laten zien of te verbergen.
U kunt de begin weergavemodus van de Spider Flash kalender wijzigen (dag, maand en jaar) en de start kalender grootte (groot of klein).
Mogelijkheid om de breedte en de hoogte aan te passen.
Spider Flash kalender heeft ook de mogelijkheid om de namen van de dag van kleur te veranderen, maar ook de achtergrondkleur, de lettergrootte en de hoogte.
U kunt ook media type aanpassen (binnen, buiten en stretch).
WordPress Flash Calendar creëert zo veel evenementen als je wilt voor een day.You kunt ook afbeeldingen en video's toe te voegen aan elk evenement en maken elk evenement uniek.
Installatie instructies:
Na het downloaden van het ZIP-bestand 
Log in om uw WordPress site, ga naar het menu 'Plug-ins'
Klik op 'Add New'
Kies de optie 'Upload'
Upload het gedownloade ZIP-bestand.
Als het eenmaal is voltooid, activeer de plug-in.