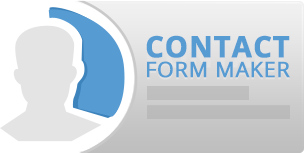 Contact Formulier Maker
Stap voor stap handleiding
2.1 Op het bovenste menu te selecteren Onderdelen > Contact Opnemen > Formulieren



2.2 Selecteer "Contactformulier" u wijzigingen wilt maken. Klik op de titel.
2.3 Navigatieknoppen. U vindt een aantal navigatie pijlen te zien naast elk veld. U kunt deze pijlen gebruiken om de velden omhoog, omlaag, naar links of naar rechts te bewegen.  
2.4 Bewerken knop. Met behulp bewerk knop, wordt u in staat zijn om de labels te wijzigen voor het veld, evenals gebied afmetingen en andere functies.
2.5 Checkbox. Met behulp van de checkbox u kunt inschakelen of de verstrekte veld uit te schakelen.