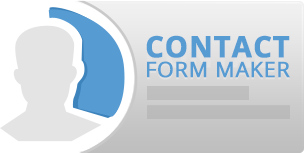 Contact Formulier Maker
Stap voor stap handleiding
Stap 3: Configureren Contact Formulier Opties
3.1 Algemene opties



3.1.1 gepubliceerd. Kies of u de gemaakte vorm te publiceren of laat het ongepubliceerde voor de verdere publicatie.



3.1.2 Opslaan van gegevens (database). Kies of u de gegevens op te slaan in de database (inzendingen tabel) of niet. BELANGRIJK: Zorg ervoor dat u goed voorbereid de e-mailopties. Het uitschakelen van deze optie is alleen van toepassing als u liever inzendingen ontvangen alleen via e-mail.



3.1.3 Thema. Een duidelijk thema kan worden toegepast op elke nieuwe vorm. De thema's kunnen worden geopend door Onderdelen > FormMaker > Thema's op het bovenste menu. Er is een optie voor het creëren van nieuwe thema's, die kan worden gedaan door te klikken op "Nieuw" op de rechterbovenhoek van de sectie. U kunt het thema wilt bekijken met behulp van "Preview" knop.
3.1.4 Bewerk CSS . Deze opties kunt u wijzigingen in het thema CSS te maken. Na het indrukken van de knop Opslaan zul je in staat om een ​​voorbeeld van de wijzigingen die u hebt gemaakt.
3.1.6 Verplichte velden te markeren. Hier kunt u het symbool van de indicator gebruikt voor de verplichte velden veranderen. Standaard is * in rode kleur.